This post was originally published on this site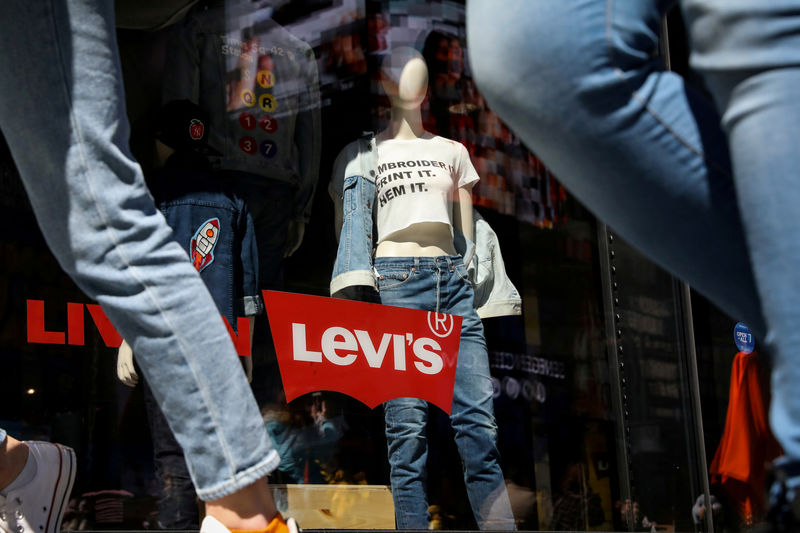 Investing.com – Levi Strauss (NYSE:LEVI) reported Thursday first-quarter results that topped Wall Street expectations and fashioned an optimistic outlook for the second half of the year ahead of the reopening. Shares rose more than 4%.
Fiscal first-half 2021 net revenue was guided in the range of 24% to 25% growth from a year earlier, while first-half adjusted EPS estimate was raised to a range of 41 cents to 42 cents.
The company reported Q1 adjusted EPS of 34 cents on revenue of $1.3 billion, topping estimates of $0.23 and $1.25 billion respectively.
Revenue, which fell 13% from the prior-year period, was hurt by the impact of the COVID-19 pandemic, including "reduced traffic and ongoing closures of company-operated and third-party retail locations for portions of the quarter in certain markets," the company said.
The second quarter dividend was lifted to 6 cents per share.
But the denim apparel marker pointed to a fall in inventories and an increase in margins ahead of the lifting Covid-19 restrictions as reason for optimism for the rest of the year.
"Our strong results this quarter were driven by faster-than-expected recovery in our business from our relentless focus on the priorities that are driving outsized performance. We continue to lean into our strategies – leading with our brands, investing in direct-to-consumer and diversifying our business – while still operating prudently to manage the ongoing uncertainty, especially in Europe," the company said.
"We are banking the outperformance and our outlook going forward has improved based on the strong demand signals we are seeing in the marketplace."