This post was originally published on this site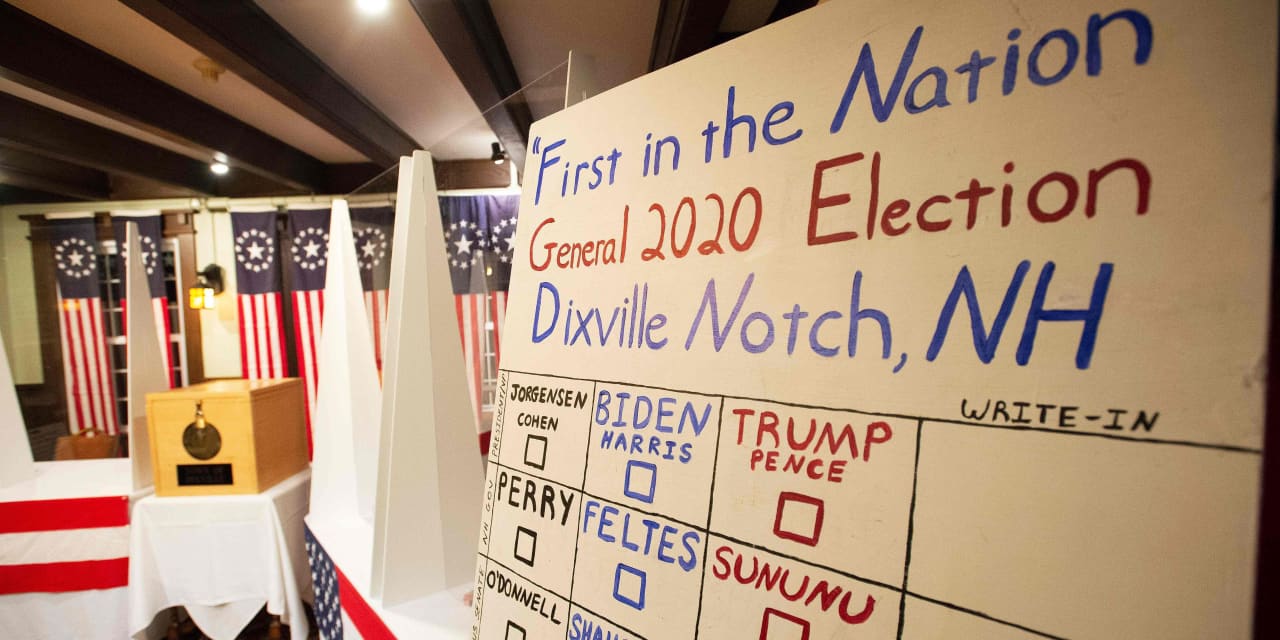 U.S. stocks rallied for a second day Tuesday as investors braced for the outcome of the presidential elections that could frame economic policy and markets in the coming four years.
Live blog: Election Day dawns in U.S. as voters choose between Trump, Biden
How are stock indexes performing?
The Dow Jones Industrial Average DJIA, +2.06% rose 554.98 points or 2.06% today to 27480.03, while the S&P 500 SPX, +1.78% gained 58.92 points or 1.78% today to 3369.16. The Nasdaq Composite COMP, +1.85% advanced 202.96 points or 1.85% today to 11160.57.
The Dow saw its largest one day point and percentage gain since Tuesday, July 14, 2020 and its best election day performance since 2008.
On Monday, the Dow rose 423.45 points, or 1.6%, to finish at 26,925.05. The S&P 500 gained 1.2%, up 40.28 points, closing at 3,310.24. The Nasdaq Composite advanced 46.02 points, or 0.4%, ending at 10,957.61, after flipping between positive and negative.
What's driving the market?
The market's bounce back from the worst week since March was supported by hopes for a clear-cut election outcome, with opinion polls leaning toward a victory by former Vice President Joe Biden over President Donald Trump, analysts said.
Investors remain worried though about the possibility that results won't be known for days or weeks, which could inject fresh volatility into stocks.
"Today's gains, coupled with Monday's rise, seems to be reflecting a slightly higher probability that we may avoid a contested election result. We don't think an immediate, clear winner is a foregone conclusion at this point," said Angelo Kourkafas, investment strategist at Edward Jones.
The possibility of the Democrats taking control of the Senate and further financial relief for businesses and individuals hit by the COVID-19 pandemic was also bullish, analysts said
See: Investors pine for a 'clear victory '–what's at stake in Trump-Biden election showdown
"At present, it appears that markets are modeling clear party line wins with either Trump and Senate winning for the GOP or Biden completing the full Blue Wave sweep," said Boris Schlossberg, managing director at BK Asset Management.
"Few are considering the very unpleasant implications of a split government with Biden winning the presidency and the Senate remaining red," he said, in a note. "Under such conditions, there is very little chance that any meaningful legislation will pass, and the prospect of stimulus will be far less pronounced which likely to lead to lower equity prices as investors begin to realize that fiscal support won't be coming. "
An average of national polls from FiveThirtyEight had Biden ahead by 8.4 percentage points on Election Day.
Investors are also paying close attention to the Senate, where Democrats are seen having a chance at taking control given a large number of vulnerable Republican-held seats up for election this year.
"To gain a simple 50-seat majority, Democrats will need to pick up seats in Arizona, Colorado, Maine and North Carolina (they are expected to lose a seat in Alabama)," wrote analysts at Nomura in a strategy note referencing data aggregated by Politico.
"To gain a 'working majority' of 52 or more, Democrats will need to win in Georgia, Iowa, Montana or South Carolina – four states that are traditionally Republican," the Nomura analysts wrote.
Read: How to vote safely on Election Day and make sure your ballot gets counted. 'Informed voters cannot be suppressed voters.'
The focus on Election Day comes as the COVID-19 pandemic has been gaining a fresh foothold in the U.S. and Europe in particular.
The global tally for confirmed cases of the novel strain of coronavirus has so far climbed to 47.4 million on Tuesday, according to data aggregated by Johns Hopkins University, while the death toll rose above 1.2 million. The U.S. has the highest case tally in the world at 9.3 million and highest death toll at 231,566, or about a fifth of the global totals.
The latest data shows the resurgence of COVID-19 is especially pronounced in swing states in the election. Seven-day average new cases are at records in Iowa and Michigan, while Wisconsin posted America's third-highest cases per capita in the past week.
Taking an unusual back seat to the election and pandemic is the two-day policy meeting of the Federal Reserve that begins Wednesday and will provide its latest update on monetary policy on Thursday.
Investors have been anticipating that the Fed and its Chairman Jerome Powell could signal a readiness to provide further monetary support for financial markets amid the pandemic. The Fed chief could also reiterate calls for further fiscal help from lawmakers in Washington, where fresh relief bills to extend help to businesses and out-of-work Americans have stalled until at least after the election.
U.S. factory orders rose 1.1% in September to mark the fifth straight gain, pointing to a steady recovery in the manufacturing segment of the U.S. economy.
Which stocks were in focus?
What did other markets do?
The yield on the 10-year Treasury note TMUBMUSD10Y, 0.897% rose 3 basis points to 0.88%, topping its 200-day moving average of 0.84%. Yields and debt prices move in opposite directions.
The Stoxx 600 Europe Index SXXP, +2.34% closed up 2.3%, as did London's FTSE 100 UKX, +2.33%.
Oil futures built on the previous session's bounce, with the U.S. benchmark CL.1, +3.61% up 85 cents, or 2.3% to settle at $37.66 per barrel, while gold futures GC00, +0.98% were also higher, rising $17.90, or nearly 1%, to settle at $1,910.40 an ounce.
The ICE U.S. Dollar Index DXY, -0.78%, a gauge of the currency against a basket of six major rivals, was down 0.6%.
Check out: MarketWatch has launched ETF Wrap, a weekly newsletter that brings you everything you need to know about the exchange-traded sector: new fund debuts, how to use ETFs to express an investing idea, regulations and industry changes, inflows and performance, and more. Sign up at this link to receive it right in your inbox every Thursday.